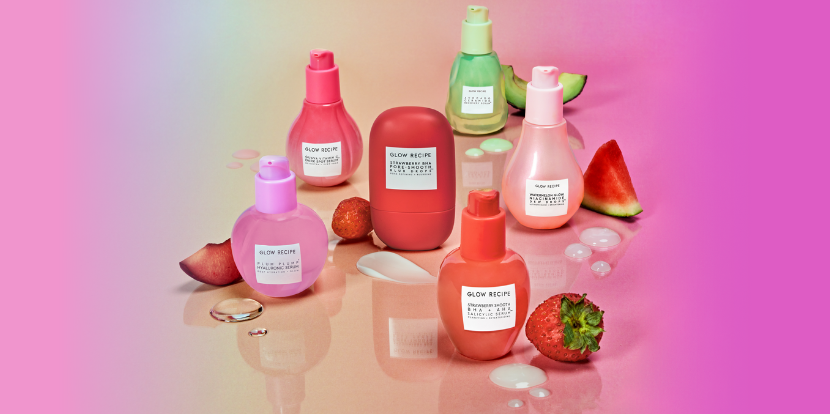 GLOW RECIPE
Co-founded by skin care specialists Sarah Lee and Christine Chang (who share over 20 years of experience in the global beauty industry), Glow Recipe is built from a passion and commitment to demystify the recipe to your healthiest skin. The brand pairs antioxidant-rich fruit with gentle yet powerful actives to create a skin care saviours for our complexion's ever-changing needs. What's more, Glow Recipe embraces what real skin is. Think: fruit-forward, clinically effective formulas and glowing results.
SHOP ALL GLOW RECIPE
GLOW RECIPE BESTSELLERS
added to your bag
Sorry, there seems to have been an error. Please try again.
Subtotal: ( items in your basket)
This order will earn status points
Quick Buy
Sorry, there seems to have been an error. Please try again.
DISCOVER GLOW RECIPE
Taking it day by day, Glow Recipe understands that your skin changes daily. Buit on an ethos to empower and teach how to love your skin, the brand dreams up recipes that tackle your complexion's daily concern. While Glow Recipe's best-selling Plum Plump Hyaluronic Cream hydrates and balances unpredictable skin, the renowned Watermelon Glow Niacinamide Dew Drops add a subtle sheen from the inside out.
FRUITY FORMULAS
Built on a philosophy around fruit-forward formulas, Glow Recipe creates gentle yet effects products that deliver clinically proven results. Clean, vegan and Leaping Bunny certified cruelty-free, the brand's unique potions help solve skin care concerns while leaving you with a radiant sign off. Explore the Glow Recipe's skin care bestsellers and discover a fruit salad mixed with watermelon, plum, strawberries and more.
GLOW FOR GOOD
Shining in all aspects of life, Glow Recipe believes that a generous heart is key for glowing skin. Supporting communities and charities that focus on diversity and inclusion, the environmental preservation and female empowerment and education, the brand makes monetary and product-based donations to various national and regional causes.
RESPECT, RECYCLE AND REUSE
Working hard to respect both your skin and the environment, Glow Recipe not only prides itself on being carbon neutral, but constantly strives to become more eco-conscious when sourcing its ingredient, creating its packaging and sending out shipments. With that in mind, it has partnered with TerraCycle® to enforce a no waste recycling programme. Here, Glow Recipe can collect and convert your empty jars into raw material that can be upcycled into household items.